---
This month, our team has undergone a series of substantial updates, with a strong focus on releasing the so-expected CNAME feature. Learn more about it:
---
Adding some hints inside Customisation to help you to understand some features
---
Drag and drop will no longer create a persistent "Move Block" box in the footer of the editor.
The ID shown on the integration page now correctly displays the project ID instead of the page ID (It fixes the issue of customizations being lost after integration).
---
We have created a changelog so that you can keep track of all our changes and updates. You can access it from the App Settings "What's new," or by using this link.
In addition to restricting actions based on the role assigned to your collaborator, we now also hide pages and sections to ensure the privacy of specific information for you.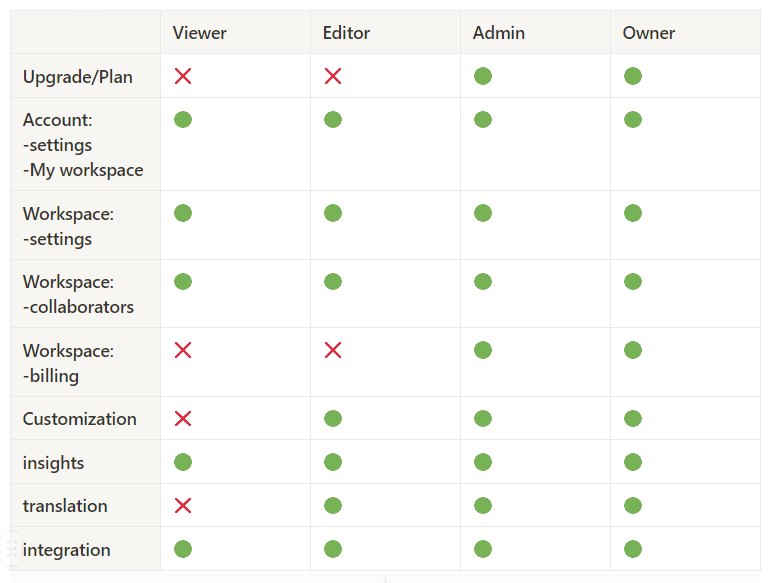 We are aware that some users experienced difficulties connecting to Notice using email auth, and there were delays in receiving the verification codes. To address this, we have switched to a better solution, and this problem should now be resolved. If you continue to experience login issues, please don't hesitate to reach out to us. :)
Inline-style:
Shortcuts are now effectively handled to enhance your content creation efficiency. You can utilize the following shortcuts to improve your workflow: (CTRL: windows / CMD: Mac OS)

Bold: CMD + b
Italic: CMD + i
Underlined: CMD + u
Code: CMD + e

Inline styles, including links, are now properly reset when creating a new block.
---
We are excited to announce that subscribed users can now add a CNAME (only subdomains) for each project. This customization feature allows you to use your own custom domain to enhance your branding and create a seamless user experience.
Find it on the Customization tab → Hosting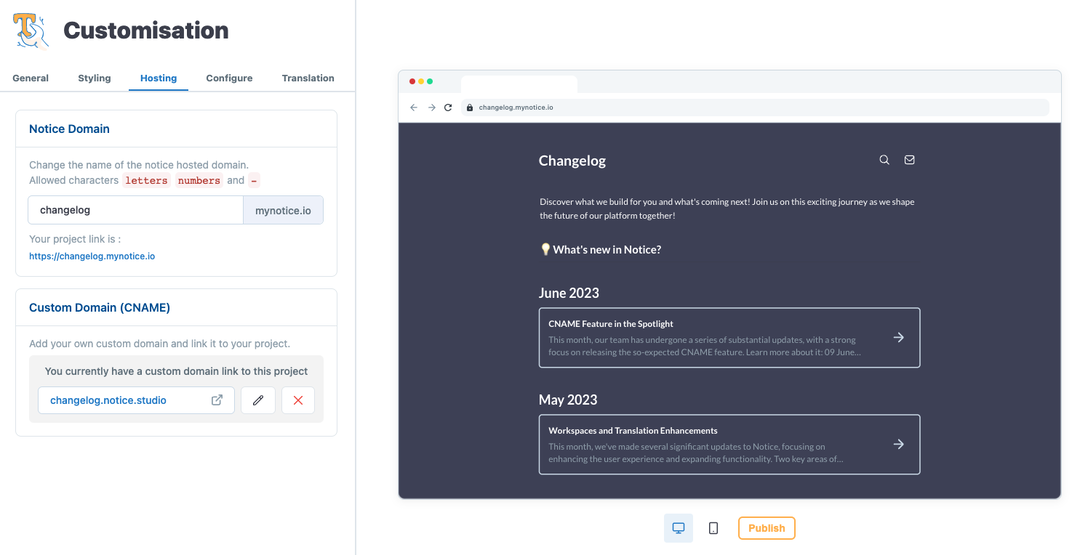 Addressed several issues related to copy/paste functionality
Minor fixes and improvements to the list functionality
Increased the maximum video size from 6MB to 24MB
Browser Tab Sync Notification: We now display a notification for non-synchronized browser tabs in Notice. Stay up to date with the latest changes and work on the most recent version of your projects.