---
We worked hard last month to bring you a completely redesigned render, making our sandbox even more flexible, user-friendly, and beautiful for creating and sharing your content. Additionally, we had some fun planning a new way for you to create custom content with AI: you can now generate ready-to-use projects based on your website data. Give it a try and let us know what you think!
---
Drag and Drop: Drag and drop functionality is now available also on the left-side menu. You can drag and drop subpages inside the same project.
---
AI-Generated Projects for All Templates: AI-generated projects now available for all templates! Easily create entire projects - blogs, FAQs, etc - customized for your business by entering your website URL, and optionally adding specific prompts (e.g., crafting a blog in Spanish). Your project will be automatically generated using your website's data.

👉 Create your custom project now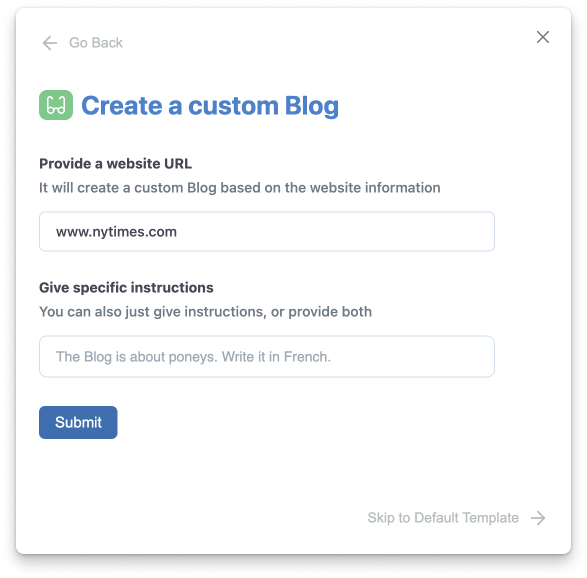 Layout Customization with "Spaces": Introducing 'Spaces' for layout customization, allowing you to tailor your project's design by areas. You will find them in the Customizations tab: header, top, left, right, and bottom. By clicking on each one, you can discover the available features and set them up as you prefer. You can preview the modifications on the side.
Export content in Markdown format: You can now export your content in Markdown format. JSON format is also available, and we are currently working to provide exports in HTML and CSS as well. It's also accessible via API. To access these options, hover over the title of your project in the left-side menu and click on the 3-dot icon displayed.
Server-Side Rendering (Progressive Availability): We're gradually rolling out server-side rendering across all integrations. Currently available on mynotice.io, it will soon be accessible to all integrations.
Inject Code at the Project Level (JS, CSS, HTML <head>): Take full control of your project's functionality and appearance by injecting custom code at the project level, including JavaScript, CSS, and HTML <head> elements. Find it in the Customization tab on the top bar.
Discover our new functionalities: You can now:
add breadcrumbs for better navigation
display reading time on your articles
include social media buttons for your audience to share your content
enable bottom navigation to move between next or previous articles
add a 'go back to top' button
showcase a 'read more' section to feature additional articles
Find all these in the Customization tab → Layout
Translation Full Page in One Click: Besides of translating your content block by block, now you can go faster with the new one-click full-page translation feature, making multilingual content creation effortless. Note: this feature is available for paid users.
Option to Navigate with '/' Instead of Query Params (=page): Enhance user experience with the option to navigate projects using '/' in URLs instead of query parameters, making URLs cleaner and more intuitive.
Preview Pages: gained a new design
Loading time: Loading time is now faster, with speeds improved by 10-20x for projects with multiple pages
Colors: Better automated calculation of colors for borders, dividers, and other elements
Redesigned Translation Interface: Our translation feature has undergone a makeover, making it more intuitive and user-friendly than ever before.
Minor fixes on the Translation feature